In this edition of "Basketball Tapas", the focus will be on the FIBA Champions League and their announcement of their field for the 2016-2017 as well as the Eurocup adding four new additions to replace the four Italian clubs that defected to the Champions League last minute. Also, we'll take a look at couple of Euroleague clubs who made some key moves to boost their rosters.
Now, let's get to serving!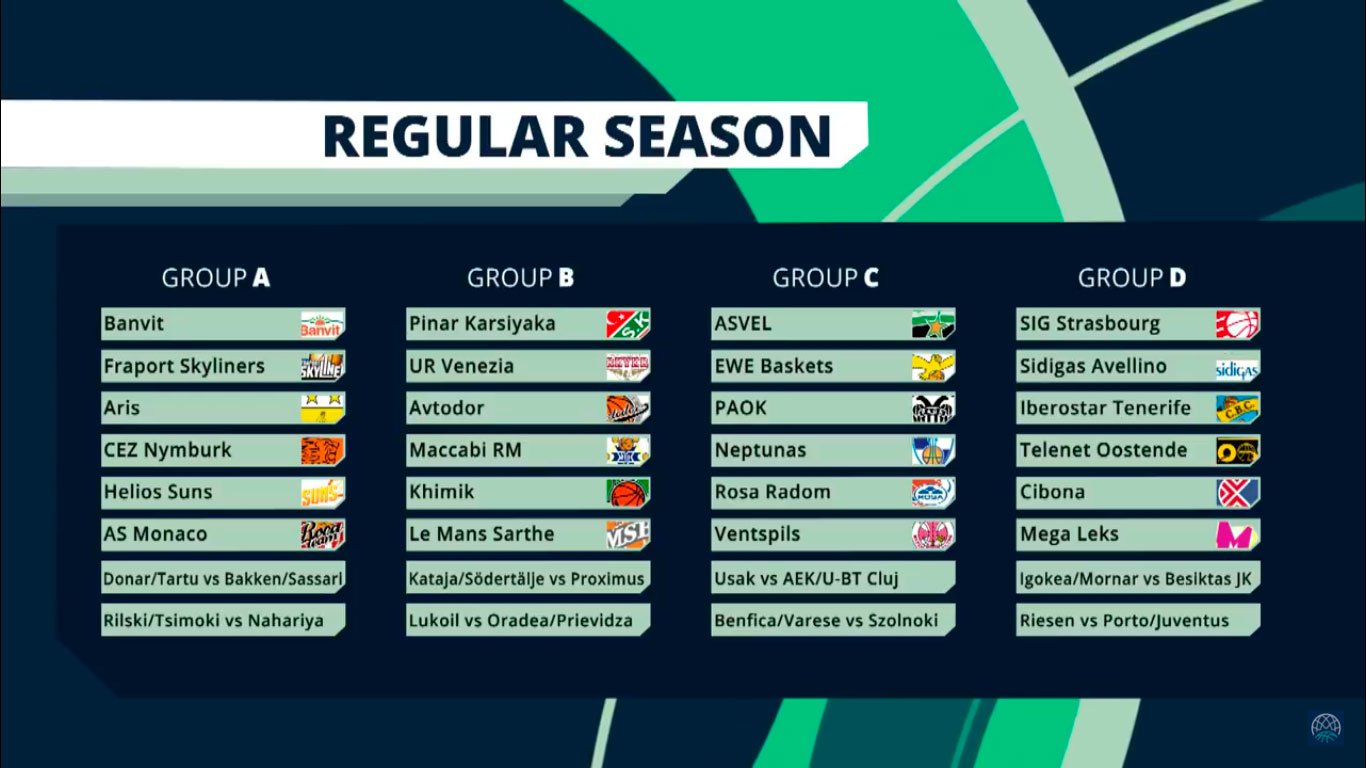 FIBA Champions League announces field
After waiting for the Euroleague and Eurocup to make their announcements, as well as ironing out some last minute additions, the FIBA Champions League finally announced their draw for the upcoming 2016-2017 season. You can take a look at some of the highlights in the tweet below
#BasketballCL Draw: Regular Season groups

📺 https://t.co/UBFKMtxaAU https://t.co/ojyjVPYcRz

— #BasketballCL (@BasketballCL) July 21, 2016
Some key things to note about that draw and groupings:
Group D looks to be the most promising and competitive group in the regular season. Eurocup and LNB runner-up Strasbourg heads the group, but clubs such as Iberostar Tenerife of the ACB, KK Cibona and Mega Leks of the ABA, and possibly Besiktas of the BSL, if they get of the qualification group, will also be challenging for group supremacy. If there is a "group of death" of sorts of the four, group D may be it.
Speaking of Besiktas and the qualification rounds, I imagine there are some teams who probably aren't happy about their status of playing in these rounds. Besiktas probably made the biggest splash in terms of transfers of any club in the BSL beyond the four Euroleague participants, and yet they only got a bye from the first round of qualification play. Furthermore, Dinamo Sassari, who participated in the Euroleague the past two seasons, will have to win in both rounds of qualification play to make it to the regular season group stage. They definitely were hit the hardest of the four Italian clubs who left the Eurocup out of fear of being banned in Serie A play.
The format is similar to the old Eurocup model, which has it's positive and negatives (more teams participating, but less guaranteed exposure and games for teams in comparison to the newly-remodeled Euroleague and Eurocup models). As stated in a previous post, the competition is stronger than anticipated, but it'll be interesting to see if the "favorites" (Strasbourg, Pinar Karsiyaka, Aris, etc.) will persevere to the playoffs and Final Four in this more cutthroat cup competition where there is less forgiveness when it comes to early losses. For FIBA's CL to be taken seriously, they need big-time clubs to make it to the championship to get attention from basketball fans all over Europe. Unfortunately, this model is less conducive to making that happen in comparison to its competition (Eurocup), and that is a big risk for FIBA in their first year of this new "league".
Eurocup adds four new clubs to make up for Italian defection
Days after the Eurocup officially announced its field, the four Italian clubs participating in the competition withdrew out of fear of sanctions and suspension from Serie A domestic play. This included Reggio Emilia, Cantu, Trento, and Sassari, as they ended up moving to the Champions League instead in order to avoid punishment (though they certainly took their time in doing so; it wasn't confirmed that their four Italian clubs were out of the Eurocup officially until the recent Champions League field announcement).
The Eurocup didn't wait long though to find replacements. Shortly after the Champions League announcement, the Eurocup announced the addition of four new clubs to take the place of the Italian defectors: Montakit Fuenlabrada of Spain, MZT Skopje Aerodrom of Macedonia, Lietkabelis Panevezys of Lithuania, and Volgograd of Russia. Fuenlabrada, who competes in the ACB Liga Endesa, and made the playoffs as a No. 8 seed last season, had some fun with their Eurocup announcement on Twitter:
Hi colleague @valenciabasket
See you twice this year! Remind the paella we have still pending 😜#paellaemoji@EuroCup pic.twitter.com/af1TUKo3P0

— Montakit Fuenlabrada (@BFuenlabrada) July 21, 2016
//platform.twitter.com/widgets.js
It is a bit sad to see that we will see three major European countries not represented in the Eurocup (France, Turkey and now Italy), which hurts the Eurocup's position as the top second-tier competition in Europe. However, the addition of some new clubs to the mix should add some nice variety to the Eurocup field. MZT Skopje represents a country that has been underrepresented in major club competitions (Macedonia), and they could help get the country and its basketball federation a bit more recognition. Furthermore, Fuenlabrada proved to be a fun team in the ACB last season, led by Croatian standout Marko Popovic, and it'll be intriguing to see if Popovic can have the kind of impact in the Eurocup this season like he did in the ACB a year ago.
The absence of Italian clubs in the Eurocup will be noted in 2016-2017, but the Eurocup rebounded nicely and quickly with these four additions.
Guard Ricky Hickman signs with EA7 Armani Milano
Former Maccabi Tel Aviv and Fenerbahce point guard Ricky Hickman announced that he will be signing with EA7 Armani Milano, a big signing for the Italian club that is coming off a Euroleague campaign where they did not qualify for Top 16 play.
Hickman represents another key move in what has been an active off-season for the defending Serie A champions. In addition to signing Hickman to take over point guard duties, they also kept star player Alessandro Gentile from going to the NBA (the Houston Rockets apparently had strong interest), and also signed Slovenian forward Zoran Dragic from Khimki and Serbian center Miroslav Raduljica from Panathinaikos. Not only are they favorites to retain the Serie A championship, but they could be dark horse contenders for the playoffs and perhaps Final Four with the strong quartet of Hickman, Gentile, Dragic and Raduljica.
After dominating the Euroleague in the early years of the "modern" format, only one Italian club has made the Final Four since 2005 (Montepaschi Siena in 2011). Milano, one of the strongest and most historic clubs in the Italian Serie A, has not made the Final Four since 1992, and one can imagine head coach Jasmin Repesa and the Milano organization and fans are eager to break both of those streaks in 2017. Milano still had to develop some depth and probably need to add a couple of pieces to make their frontcourt stronger around Raduljica, but so far this summer, Milano has done a lot to make their club stronger after such a down Euroleague campaign a year ago.
Maccabi Fox Tel Aviv signs forward Richard Howell
After the devastating injury to Quincy Miller, one of Maccabi's premier signings this off-season, the Israeli powerhouse seems to have found a solution to their Miller situation. Richard Howell is on his way to the "Yellows" in Tel Aviv, via reports and this announcement on his Twitter. The 6'8, 25-year-old former North Carolina standout has played in the NBA as well as the D-League, and fortunately will be familiar with the club and the country, as he played last season with Ironi Nahariya in the Winner League, where he averaged over 15 ppg and 9.8 rpg. (Howell also played for Talk n Text of PBA in the Philippines last year, as pictured above.) Howell seems to be optimistic about going to Maccabi and Israel, as he had this to say on his Twitter:
Excited for these next 2 years of basketball! Great opportunity #telaviv

— Rich Howell (@1richowell) July 21, 2016
//platform.twitter.com/widgets.js
Howell is not as "pure" replacement for Miller of course. While he does help their frontcourt, he doesn't have Miller's ball handling skills, and is not the outside threat from beyond the arc that Miller is. He is more of an "around the basket" player, who relies on his athleticism and crafty, physical skills to generate points and garner boards on both the offensive and defensive end. That being said, he is a much better rebounder than Miller, and he will provide a nice physical combo for Tel Aviv when combined with Maik Zirbes, who plays in the same, "hard-nosed" style. Considering Maccabi was one of the worst rebounding teams in the Euroleague last season (they ranked near the bottom in defensive rebounding rate), their signing of Howell is a nice addition that should help make up for the loss of Miller somewhat.
Other "Tapas" of note…