The big story of the 2016 NBA Draft on Thursday night was the record 14 foreign-born players that were selected in the first round, a NBA record in that category. Considering the lack of top-shelf talent beyond Top-2 picks Ben Simmons and Brandon Ingram, many teams holding a plethora of draft picks (the Celtics, Nuggets and Sixers just to name a few), and with the cap looking to go up considerably over the next two years (meaning more room to spend on potential free agents), it makes sense that many NBA teams decided to take some risks on some European talents that are not only unknown with the typical American basketball fan, but also might not dress for their team in a year or two (ala Dario Saric and Ricky Rubio). Nowadays, letting talent develop overseas for a year or two against top European competition while still keeping that player's rights has been a more accepted route to player development in NBA front offices, as it allows teams to save money in the draft (because they are not on their active roster, they do not have to pay them), while at the same time, allowing them to be patient with players who probably are a couple of years away anyways from making impact at the NBA level. Dirk Nowitzki and Ricky Rubio are quintessential success stories of such a strategy, and the Sixers are hoping to strike gold in the same way with Dario Saric this season.
Whether American basketball fans agree with drafting "unfamiliar" European players who are a couple of years away from contributing (if they contribute at all) over well-known college stars, this much is clear: the demand for talent from Europe in the NBA is greater than ever, and it's going to be more and more difficult as the years go by for European clubs to be able to keep their best young players from jumping to the NBA, especially after the success of Kristaps Porzingis with the New York Knicks. Yes, dumb and ignorant fans in NBA jerseys on draft night will still boo them because their team drafted a teenager from France over some player who was Honorable Mention All-SEC his senior year (Bravo!). But the boos are becoming less common (Porzingis helped silence that last year), and front offices are becoming more open about building their roster with younger European players, who offer different and in some cases more refined skill sets that mesh better in today's more "wide-open" NBA game.
Of the players picked, there were a lot of different angles taken when it came to covering the European players drafted. Some focused on Dragan Bender, the No. 4 pick overall in the draft, who was one of the few players in European history to go in the Top-5 in the NBA Draft (Porzingis went last year, making it two years in a row). Some focused on the Kings' surprise selection of Georgios Papagiannis, an 18-year-old Greek center from the Greek power Panathinaikos who went far above what most people expected in mock drafts. And there was some experts focusing on the Global diversity of talent represented in this latest draft, as Croatia (3), France (5) and China (2) had multiple players from their country selected in the draft (Spain, Germany, Serbia, and Greece were also represented as well).
However, one of the fascinating stories of this draft in my mind, as a newly-christened European basketball fan, was the tremendous representation from one club in Europe in this latest NBA Draft. And surprisingly, it was not a commonly-known European power that participates in the Euroleague or even Eurocup. Yes, Maccabi Fox Tel Aviv, Panathinaikos, and FC Barcelona were all represented, as they commonly are because they tend to be able to outbid for the best young talent in the world to play for their developmental and senior club teams. That being said, there was one club that did better than those clubs by having as many players drafted in this draft as those three combined.
Who was that club? KK Mega Basket, or better known as Mega Leks, out of Serbia. Not quite the common household European club name, I know, but they are a fascinating club in Europe that is slowly rising after one of their best seasons yet.
So, let's find out more about this Serbian club that produced THREE draft picks in the latest NBA draft.
Who were the players drafted from Mega Leks?
The three players drafted who played for Mega Leks last season were as follows: Wing Timothe Luwawu, who hails from France (he went 24th overall in the draft to the Sixers); Center Ivica Zubac from Croatia (who went 32nd overall to the Lakers); and wing Rade Zagorac from Serbia (who went 35th overall to the Celtics, but was traded later to the Grizzlies).
Luwawu has the most upside of the three, as he averaged 14.6 ppg, 4.8 rpg and 1.7 spg for Mega Leks in ABA (Adriatic Basketball Association) play through 28 games, and 13.6 and 3.6 rpg in Serbian League play, though he only played 5 of the club's 13 games. Luwawu has tremendous potential with his 6'6 athletic frame, and has proven to have a strong ability to score, as evidenced by his solid ppg averages in his year-long tenure with the Serbian club. Furthermore, there may not be a whole lot of players from this recent draft who can match Luwawu's speed in the open court, as he excels in transition, whether off the ball or on the dribble. However, his shooting is still in some need of work, as he only shot 41.9 percent from the field in ABA play (he shot 54.6 percent in Serbian League play, but as said before that was only 5 games, and against lesser competition).
The 19 year old Zubac from Croatia posted a solid campaign in the Serbian League, which he primarily played in (he did not make any appearances in the ABA for Mega Leks). He averaged 10.9 ppg, 5.1 rpg, and a team-leading 1.5 bpg in 22.5 minutes per game during the 13 game season. Zubac primarily stays around the post, as he shot 50 percent for the year, and took ZERO shots from beyond the arc. Zubac displays mature footwork for a player his age, some good moves off the pivot in the post, and he as the kind of body (7'1, 265 pounds) to bang down low in the post in the mold of a Dino Radja or Zan Tabak, both centers who hailed from Croatia and played in the NBA.
And lastly, Zagorac doesn't have Luwawu's raw athleticism, but he is a more polished shooter and is better at creating opportunities off the dribble for himself and his teammates. As you can see from the highlights below, Zagorac plays well in the pick and roll for a combo/wing and is able to find teammates on the roll or pop either for layups or short jumpers. Zagorac was Mega Leks' best overall player in the Serbian League as he averaged a team-high 14.7 ppg and also contributed 3.1 apg, and 6.2 rpg in 27.4 mpg. One of the most impressive aspects of his game is his ability to shoot off the dribble, especially in the mid-range. He shot an incredible 64.7 percent from the field and 48.6 percent from beyond the arc in Serbian League play. His game shows flashes of former Serbian NBA player Peja Stojakovic, which could be good news for the Grizzlies who got him in the Second Round.
How did Mega Leks Do Last Year?
Mega Leks has only been around since 2008, but last season was a historic one for them in their young history as a professional basketball club. According to Eurobasket.com's Top-100 ratings, Mega Leks finished the season ranked 88th, a sterling accomplishment considering that they are the "new kids on the block" in the European basketball scene. They were one of four teams from Serbia to play in the ABA last season, and they actually finished as a runner-up to Crvena Zevezda in the playoffs, the top Serbian club that has played in the Euroleague the past two season. In KLS (Serbian League) play, they finished 4-2 in regular season play, and were swept in the semifinals by Crvena Zevezda. However, they beat FMP Beograd 3 games to 2 to not only win the third place consolation prize of the KLS playoffs, but also qualify again for the ABA.
The biggest achievement though for the young club was during the Serbian Cup (or also known as the Radiovaj Korac Cup), a single-elimination national tournament played in February and put on the Serbian Basketball Foundation. The upstart Mega Leks team, with only 1 player on their roster over the age of 30, won the Serbian Cup championship beating longtime Serbian power Partizan Belgrade 85-80 in the championship game. 22-year-old Macedonian Nikola Ivanovic was named the Tournament's MVP, especially after his 24 point, 5 assist performance in the championship game. The Korac Cup victory is the first trophy acquired in Mega Leks' eight-year club history.
What Makes Mega Leks Worth Knowing About
The club is a pretty "hip" club in a country that is as basketball-crazed as any in the world. For years, the Serbian basketball scene has been dominated by Partizan and most recently Crvena Zvezda. However, Mega Leks has come on as of late by building their team not with veteran free agents, but through young players they develop through their own 18U team (which does participate in the Adidas Next Generation Tournament). The average age of last year's roster was 20.87 years and they only had 1 player on the roster who was over the age of 23 (34-year-old Serbian Aleksandar Rasic). This strategy of building through a young, mostly Serbian roster (11 of the team's 16 players were from Serbia) not only endeared themselves to fans who liked young, exciting basketball, but as you can see above from the results, it also produced a squad that got better and developed more chemistry as the year went on. Head coach Dejan Milojevic has been coaching the team since he retired as a player in 2012 and has done a phenomenal job building this Mega Leks club into a stronger program each and every year.
In addition, one of the other major reasons to like Mega Leks is their uniforms and club color scheme. Saying the scheme is bold is putting it lightly: nobody in the world from my knowledge can match their hot pink and neon green ensemble. At first, it was a little weird, as no other basketball, or sports team in general, has ever sported such a scheme with so much bravado. But after repeated viewings, I have begun to dig their uniform duds. It's bright, it's bold and it definitely shouts "future" in a uniform fashion world that is in dire need of some change at times. There pink and green combination might not be for everyone, especially traditionalists that still pine for the days of the "short shorts." That being said, considering Partizan's all-black look (blah), and all-white scheme that mirrors Real Madrid somewhat, and Crvena Zvezda's nearly identical look to Olympiacos, it is refreshing to see Mega Leks go against the grain of what it is to be expected from a basketball uniform not only in Europe, but worldwide as well.
Take a look at a few shots below and simply digest and enjoy. (Or at the very least digest…)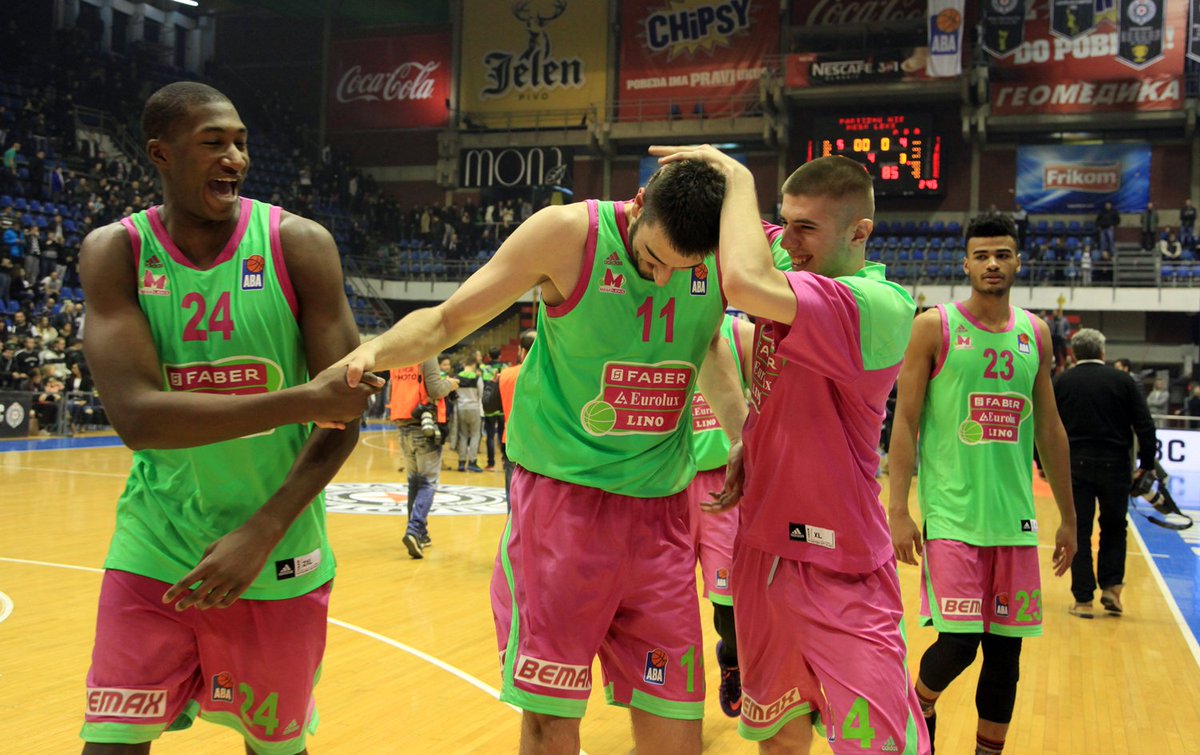 What does the future look like for Mega Leks?
As stated, this is a very young club with a very bright future, even with the possible departure of their 3 young stars to the NBA. Mega Leks also lost Macedonian and Serbian Cup MVP Ivanovic to AEK Athens this off-season, so it wasn't just the NBA that hurt Mega Leks' roster this offseason. That being said, that is the reality for ALL clubs in the Serbian League, as even Crvena Zvezda was hurt this offseason by other bigger and much wealthier clubs poaching their talent (Red Star lost Maik Zerbes and Quincy Miller to Maccabi Fox Tel Aviv).
Despite this massive loss, it is possible that Zagorac and Zubac may stay in Serbia (Luwawu is good as gone to the NBA as a first round pick to the Sixers, a team that could use his talents immediately), as they probably are a year or two away from really having an impact at the NBA level, and their status as second round draft picks could further heighten that possibility. The return of those two will make them a dark-horse favorite in the KSL and ABA, especially if Partizan and Crvena Zvezda cannot adequately replace the talent they just lost this offseason. Whatever happens with those two is yet to be determined, but considering Milojevic's track record of success, I think he'll be able to succeed with this Mega Leks club next season with or without the NBA Draftee pair.
Another major development for Mega Leks is they will participate in the inaugural FIBA Champions League, which is supposed to compete with the Eurocup as a second-tier competition to the Euroleague. FIBA is hoping the Champions League will develop eventually as an alternative to the Euroleague, but with it in its early stages, and considering the failures of FIBA's past "European Club" efforts after they lost the Euroleague-brand in 2001, that is still a long ways away from being realized. However, Mega Leks seems to be the most premiere club to join FIBA's league and could be the favorite to win it. A championship in the new FIBA league and perhaps some strong performances in the KSL and ABA, and it is totally possible that Mega Leks could jump their 88th Eurobasket.com club rating and then some by the summer of 2017.
And hopefully, basketball fans will know them for more than just producing three NBA Draft picks in one year and the wild and funky uniforms by then.