After a preliminary round of games, we have reached the bracket rounds of the FIBA Olympic Qualifying Tournament. The reward? Three teams will get berths in the upcoming Olympic Games in Rio de Janeiro where they can fight for a chance to earn a bronze or silver medal (sorry…nobody's competing with the USA, even though the lack of big-name stars like Kobe Bryant, LeBron James and Stephen Curry will make it a little bit more interesting). 12 teams remain in the OQT, and to be frank, there is a strong chance a team worthy of an Olympic berth will not qualify through this tournament. While I do think the FIBA World Cup is a better venue for National Team basketball competition, the Olympics still remains the most high-profile, and the dogfight for the last three spots will be interesting to follow this weekend.
For those who are unaware, the tournament is split into "three groups": An Italy Group, a Serbia Group and a Philippines Group. The winner of each group goes to the Olympics. Everybody else will be forced to watch the Olympics on the NBC Family of networks from their home country (whether or not it's the one they participated for in this tournament though is to be determined). Before going into the preview of the "bracket" round, let's point out some key events and thoughts from the tournament so far.
Not a great tournament for FIBA Asia or FIBA Africa, as the teams from the two continents went a combined 0-12 in group play. I know the NBA is trying to make great inroads with both those continents, both economically with fans as well as in basketball development. However, it is obvious that those continents are still years away from seriously competing on the global level with major continents like the Americas and Europe.
Speaking of FIBA Asia, it was a bit of a disappointing showing for Gilas Pilipinas (the name of the Filipino National Team). Despite the home court advantage, Gilas went 0-2, with losses to France and New Zealand in Manila. They played admirably in both games, and actually gave France a pretty good fight, as they actually led the global power after the first quarter. However, their lack of size (average height was 6'5 and that was with naturalized citizen Andray Blatche) ended up being their own worst enemy in both games, as it has been in FIBA Tournaments in the past. There still is some promise with Gilas, as Terrence Romeo and Bobby Ray Parks look to be a good combo to take over the mantle at the guard positions when Jayson Castro and Jeff Chan retire from international play. It'll be interesting though to see how long Gilas lasts with Tab Baldwin, who has obviously made an impact offensively and defensively with the club (they played a much more aggressive scheme in the OQT). The Filipino Basketball organization isn't known for being patient, but I think Baldwin deserves some more time, at least through the next FIBA Asia Championship to prove his worth.
The Americas was a bit of a surprise, as Canada, Mexico and Puerto Rico all qualified for the Bracket round. Canada, despite missing Minnesota Timberwolf Andrew Wiggins, has remained competitive in their group (though inconsistent…as always) and has really been boosted by the presence of Tristan Thompson, who hasn't been as active in the international scene the past couple of years. Mexico was missing former NBA player Gustavo Ayon, who just recently signed an extension for the reigning ACB champions, Real Madrid. However, they were able to pull the upset over Iran, who had former NBA player Hamed Haddadi, to qualify for the bracket round in their group. And Puerto Rico, who have faded a bit since their "monumental" Olympic win over the USA in 2004, have played well, and parlayed the experience winning the Centrobasket Tournament weeks earlier into solid play in the OQT.
There is going to be at least 1 deserving European squad left out of the Olympics this August. Latvia, Greece, France, Czech Republic, Serbia, and Italy have all proven that they would be competitive if they made the Olympic field, but unfortunately, only three of those listed have a chance to make it. At this point, I would not be surprised to see all three slots go to European squads. The FIBA Europe field in this OQT has been that strong (the lone exception being Turkey, who have not looked very good this tournament).
Okay, with some of those thoughts out-of-the-way, let's get to the preview of the bracket round of each group.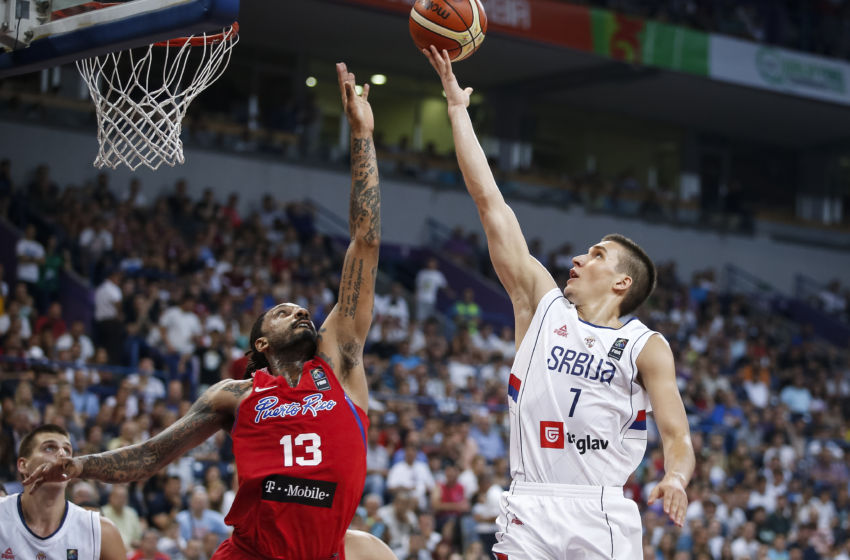 Semifinal 1: Latvia vs. Puerto Rico
Semifinal 2: Serbia vs. Czech Republic
Analysis: Puerto Rico has been a good story, as they pulled off a big win over African power Angola 91-81 in Game 2, and only lost by 6 points to Serbia, a heavy favorite as they are playing these group games in Belgrade. Puerto Rico is led by their point guards, as Carlos Arroyo (who went through an up and down season with FC Barcelona in the ACB last year) and JJ Barea have played well, as expected for Puerto Rico, averaging 12.5 ppg and 14 ppg, respectively. However, the big surprise has been John Holland, who is averaging a team-high 16 ppg and 5 rpg from the wing position. The depth on the perimeter for Puerto Rico has made them a sneaky dark horse threat.
As for Latvia, they have been led by Bilbao Basket star Dairis Bertans, who is averaging a group high 19 ppg on 54.5 percent shooting, and the two Janis': Janis Timma and Janis Blums. Timma has done more of his damage around the basket, as he is averaging 10.5 ppg but only shooting 25 percent from beyond the arc, while Blums has been a marksman from three, averaging 10 ppg on 54.5 percent from beyond the arc. The only issue for both teams will be in the post, as Puerto Rico relies on aging players like Renaldo Balkman to hold down the fort, while Latvia is missing Knicks superstar Kristaps Porzingis. Whoever wins the rebounding edge will be key to who makes it to the championship game in this matchup, especially since they are both strong teams on the perimeter.
As for Serbia, they are the favorite and rightfully so: they are in Belgrade, and are led by a lot of NBA and European talent such as Milos Teodosic, Bogdan Bogdanovic, Miroslav Raduljica, Nikola Jokic and Nemanja Nedovic. Serbia struggled a bit to put away Puerto Rico in game 1, but they have seemed to find a groove against Angola, as they won by 23 points. Jokic and Raduljica have been key in the post for Serbia, and Bogdanovic has provided impact, as expected, on the offensive end both off the drive and from beyond the arc (he is averaging 12 ppg and shooting 46.2 from beyond the arc. However, the key to the team earning an Olympic berth rests on Teodosic and his ability to create offense for this Serbia team. While Teodosic's leadership and presence on the floor has been felt (he was a +24 in net rating in their win against Angola), he hasn't really exploded with a big performance (he had 8 points, 6 assists and 4 turnovers in the game 2 win). If he can channel his big-performance capability in this bracket round like he did in the Euroleague, then Serbia will be a shoe-in for 1 of the 3 Olympic berths.
However, they might have a tougher time in the semifinal round than in a possible championship game. Led by first-team All-Euroleague center Jan Vesely and future Washington Wizard and former FC Barcelona guard Tomas Satoransky, the Czech Republic bounced back with a convincing 16 point win over Japan in game 2 after a rough 12 points loss to Latvia where they shot 37.7 percent from the field, including 2 of 15 from beyond the arc. The key to a possible dark horse run in this bracket will be the combo of Vesely and Satoransky, as they are a tough combo to stop when they are on. Satoransky has been a bit up and down though, as he only scored 5 points against Latvia. He will need to improve upon that performance against Serbia if the Czechs want a possible rematch with Latvia. Only this time an Olympic berth could possible be on the line.
Pick: Serbia
Semifinal 1: Greece vs. Croatia
Semifinal 2: Italy vs. Mexico
Analysis: This is arguably the strongest of the three groups, as you have three legitimate Olympic teams in Greece, Croatia and Italy. Unfortunately for FIBA and International basketball fans, two of these worthy teams will be left out in Rio.
Mexico has been a surprising story, led by NBA journeyman Jorge Gutierrez at the guard position, who is averaging 12.5 ppg, and under-the-radar guard Francisco Cruz, who plays for VEF Riga in Latvia. However, the lack of Ayon in the post is a serious hinderance for this Mexican club, and though Lorenzo Mata is serviceable, they are going to have issues defending Italy's long and outside-oriented bigs.
Speaking of Italy, no team has looked better than this country over the past month, in both OQT and in international friendlies. Coached by former CSKA Moscow and Real Madrid head coach and current San Antonio assistant Ettore Messina, Italy cruised through group play with their meticulous, outside-oriented style. Italy is not known for playing a physical style of ball, but they have hurt teams with the 3-ball, as Marco Belinelli, Andrea Bargnani, Gigi Datome and Danilo Gallinari are all threats to hurt opponents from beyond the arc. The big question though will be how they fare in the post, as Bargnani isn't exactly the kind of physical player to bang with the potential posts from either Greece or Croatia.
Greece is probably the deepest team in this group, and arguably the whole OQT in general. With Giannis Antetokounmpo, Ioannis Bourousis, Thanasis Antetokounmpo, Efstratios Perperoglou, Kosta Koufos and Nick Calathes leading the roster, Greece is a squad chock full of NBA and Euroleague pedigree. They don't have the shooting depth of Italy, but the length they have will give Croatia fits, and Italy in the Championship, should they get past Croatia.
However, don't count out Croatia, who bounced back from a 7-point loss to Italy with a 20-point win over Tunisia. This isn't the kind of "strong" Croatia team we have seen in the past with Toni Kukoc or Dino Radja or Drazen Petrovic, but the talent on this team is young and capable of pulling the upset. Bojan Bogdanovic has carried the young squad, as he is the group's leading scorer, averaging 25.5 ppg in group play. And Darko Planinic and Dario Saric (who will be going to Philly next year) have been holding things down in the post, though they still have room to grow as players. And lastly, don't count out Mario Hezonja, who's struggled this tournament, but has the potential to light it up from beyond the arc. I think this Croatia team is probably a couple of years away from being a real contender on the global scene, but they have a puncher's chance against Greece.
Pick: Greece.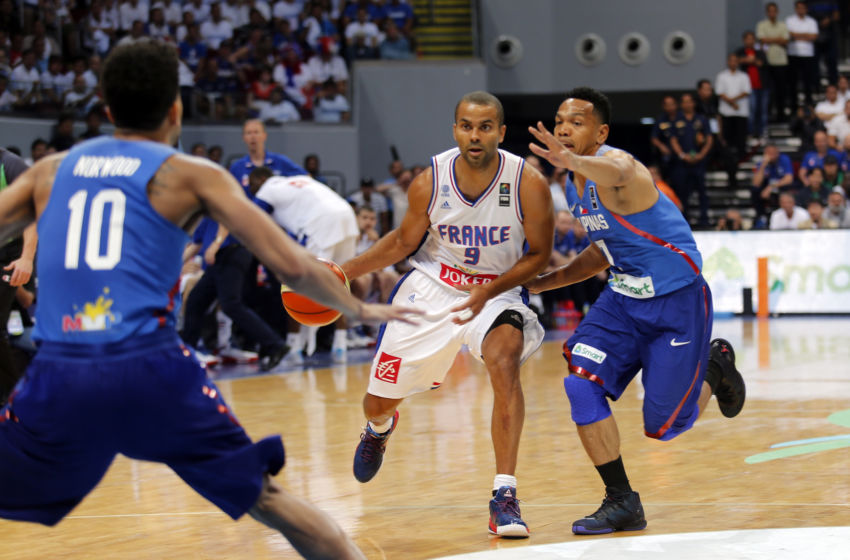 Semifinal 1: Canada vs. New Zealand
Semifinal 2: France vs. Turkey
Analysis: A bit of a blah group, as Turkey and New Zealand should be easy fodder for France and Canada, respectively. However, don't count out Canada's history of inconsistency on the big stage, as evidenced last year where they dropped a semifinal game against Venezuela that cost them the FIBA Americas 2nd automatic berth.
Athletically, Canada could compete with anybody in the OQT field. Their average height is 6'6 and they are a young team with an average age of 25 (and this is without Andrew Wiggins). However, sans Corey Joseph, who is averaging a team-high 17 ppg, this Canada team has struggled. Thompson has added NBA experience and defensive versatility to Canada's roster, but has gone through efficiency issues on the offensive end, as he is shooting 31 percent from the field and averaging only 8.5 ppg. Brady Heslip, who lit up the D-League with the Reno Bighorns a year ago, has hit a cold streak so far in the OQT, averaging only 3 ppg while shooting 18 percent from the field. The talent is there for Canada: Anthony Bennett, Melvin Ejim, Khem Birch, Tyler Ennis, etc. However, they have not been able to mesh at times, as evidenced in their 58-55 win over a Senegal team they were much better than on paper.
Canada should make it to the Championship game of this tournament (most likely against France), but they should not take New Zealand lightly. The Tall Blacks pulled a big win in front of a passionate pro-Filipino crowd in Game 2, winning 89-80 in a game which they won every quarter but one (they tied the third quarter). They key to the Tall Blacks' to qualifying for the bracket round has been guard Tal John and Corey Webster and forward Reggie Abercrombie. New Zealand doesn't possess a ton of athleticism or highly skilled or big-name players in comparison to their competition, but they play well together, and they run a lot of different looks on defense to give teams fits. If Canada shows up to play like they did against Senegal, it would not surprise me to see the Tall Black add another upset to their OQT resume.
The Turkey-France matchup is one that would have been good four years ago, but will most likely be a blowout in favor of the latter. Turkey has a solid mix of NBA and Euroleague stars in Omer Asik, Bobby Dixon, Semih Erden, and Furkan Korkmaz.  However, the absence of real big NBA stars like Enes Kanter and Ersan Ilyasova makes this Turkish squad feel a bit second-rate in comparison to teams from past international competitions. And it has shown on the court, as Turkey not only hasn't been impressive in group play, but they didn't impress either in many of their friendlies leading up to the OQT competition.
On the other hand, though they are missing Rudy Gobert, and with Nic Batum sitting out (but on the bench), France is loaded with star power who play well together. They mix of NBA veterans like Tony Parker and Boris Diaw have meshed well with Euroleague stars like Nando de Colo and Thomas Huertel. The absence of Gobert and Batum has left France a bit fragile in the post, as Joseph Lauvergne and Kim Tillie haven't been able to duplicate Gobert's presence, as evidenced their 93-84 shootout against the Philippines. But, France can score from all over the court and in a variety of ways, and the presence of two highly skilled and polished playmakers like Parker and de Colo makes France one of the smoothest offensive teams in the OQT, which should carry them to victory in this group, and a spot in the Olympics.
Pick: France.